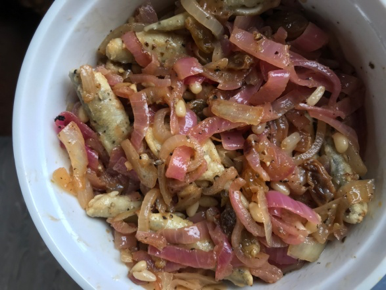 Broiled smelt smothered in a casserol of raisins, pine nuts and golden fried onions.
Preparation Time: Prepare 3-hours ahead
Serves: 4
INGREDIENTS
1 lb (454 g) Great Lakes Food Cleaned Smelt or Smelt Fillets
1 cup (250 ml) milk
½ cup (125 ml) white flour
1/2 cup(125 ml) white wine
¼ cup (60 ml) golden raisins (or your choice of raisin)
2 onions, halved, sliced
1/2 cup (125 ml) cider vinegar
2 tbsp (60 ml) pine nuts
1 tsp (5 ml) fresh or dried oregano
Pinch clove powder or 1-2 whole cloves (optional)
3 tbsp (75 ml) vegetable oil, divided
Salt and pepper to taste
PREPARATION
Rinse the frozen smelt until slightly soft and soak in cold milk for 15 – 20 minutes.
Remove smelt from the milk shaking off excess and discard the milk. Season the moistened smelt with salt and pepper and toss in flour. Let the seasoned smelt sit in the flour for about 10 minutes. Soak raisins in your favourite white wine (or warm water) until soft (about 10 minutes) As smelt and raisins soak, sauté onions with half the oil on medium heat until lightly golden for about 12 minutes.
Combine vinegar, softened raisins, pine nuts, oregano, cloves, salt and pepper to taste. Preheat broiler to high and arrange smelts on a lined baking sheet. Drizzle the fish with olive oil and broil 4 minutes, until cooked. Remove smelt from oven, place in a glass or casserole dish and cover with onion mixture. Allow fish to marinate in the fridge for 3-4 hours or overnight.
TO SERVE
Serve slightly warm up on a bed of your favourite salad greens with crusty Italian bread or on a bed of white rice.