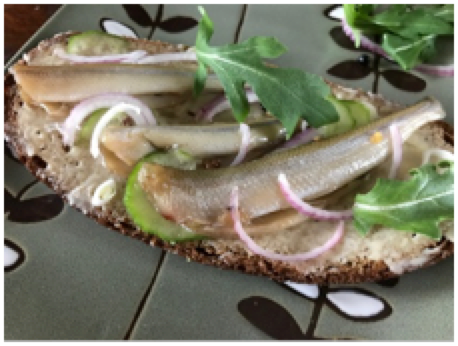 Sweet and spicy smelt served on strips of pumpernickle or whole grain rye bread.
(Prepare at least 24 hours in advance)
Preparation Time: 1 day ahead
Makes: 6 – 8 Appetizers
INGREDIENTS
1 lb (454 g) Great Lakes Food freshwater smelt (Cleaned or Fillets)
Coarse salt
Dark thin wholegrain rye or pumpernickel bread
2 or 3 tbsp (30 ml) butter, softened (or cream cheese)
Red onion, thinly sliced
Arugula leaves (spinach or romaine)
Fresh dill (optional)
Peppercorns (optional)
SPICED PICKLING BRINE
1 cup (250 ml) vinegar (white, apple, wine or rice)
¼ cup (75 ml) brown sugar
½ inch (3 cm) piece of ginger, sliced
3 slices of red onion or shallot
2 bay leaves
2 cloves garlic smashed or sliced
3 tsp (15 ml) of your favorite pickling spice
or
2 tsp (10 ml) whole spices (such as allspice berries, mustard seed, peppercorn, clove, coriander, juniper berry, celery seed)
1 tsp (10 ml) ground spices and herbs (such as dill, rosemary, thyme, smoked paprika, turmeric, pepper flakes)
PREPARATION
Sprinkle thawed smelt heavily with coarse salt and refrigerate for 2 hours.
Heat vinegar and sugar in a pot until the sugar is dissolved. Add the remaining ingredients and cool the spiced pickling brine.
Rinse and drain the smelt and lay in bottom of a container. Pour the cooled spiced brine mixture to cover the fish. Refrigerate at least 12 hours (or longer) before serving.
Keep refrigerated.
TO SERVE
Slice your bread into strips (to suit the size of your pickled smelt)
Cover the top of each bread strip with butter and 1 or 2 green arugula leaves and red onion slices.
Shake excess brine off the smelt and arrange 1 or 2 pieces of smelt on top of each of the prepared bread strips.
Top with a garnish with a few more red onion slices, fresh dill or peppercorns and arugula.