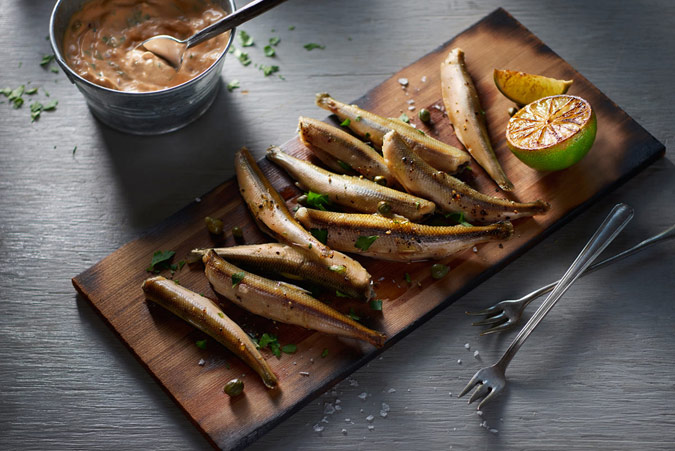 Cedar infuses the fish with a subtle, woodsy smokiness for a perfect tapas-style dish.
Preparation: 30 min.
Serves: 4-6
INGREDIENTS
1/2 cup 125 mL mayonnaise
2 tbsp 30 mL each minced red onion and parsley
2 tsp 10 mL each lemon zest and Sriracha sauce
1 clove garlic, minced
1 lb 454 g Great Lakes Food Cleaned Smelt, defrosted
Large cedar plank, soaked at least 2 hours
Sea salt and pepper
Olive oil and lemon wedges
PREPARATION
SAUCE: Blend mayonnaise with onion, parsley, lemon zest, Sriracha sauce and garlic; set aside.
PREHEAT grill to medium. Arrange smelt in a single layer on plank; season liberally with salt and pepper. Set plank on grate; grill, with lid closed, for 12 minutes. Transfer plank to a large trivet or board. Drizzle smelt with oil and surround with lemon wedges. Serve with sauce. Serves 4 to 6.
TIPS:
Rather than wedges, grill lemon halves to concentrate and sweeten the juice to squeeze over the fish.
Brush slices of baguette with olive oil and grill to serve alongside the smelt.
Create a tapas-style platter by adding mixed olives, hot peppers and other garnishes.
For a rustic look, serve right off the plank, but line your surface with parchment or paper to avoid the transfer of soot from the underside of the board.
Replace Sriracha sauce with any favourite hot sauce. Or, for a milder yet still zesty complement, use Dijon mustard.